Young House Love
- so I told myself once we have our own place, I must try at hand at this DIY project thing!
I once thought in a parallel universe, someone (aka Sherry, the beautiful co-author of Young House Love) is living the life of my dreams. The whole blogging-mom-DIY-queen thing... but having failed miserably to even maintain our regular blog, I have decided I would like to stick to my regular financial advisor role instead - something that I have a huge passion for - thank you very much.
Anyway, here goes: We chanced upon some wall stickers when we went on our
Bangkok trip in Feb
at Index Living Mall and since we have 'broken into' the house for about 50%, time for the stickers to take their place in the house.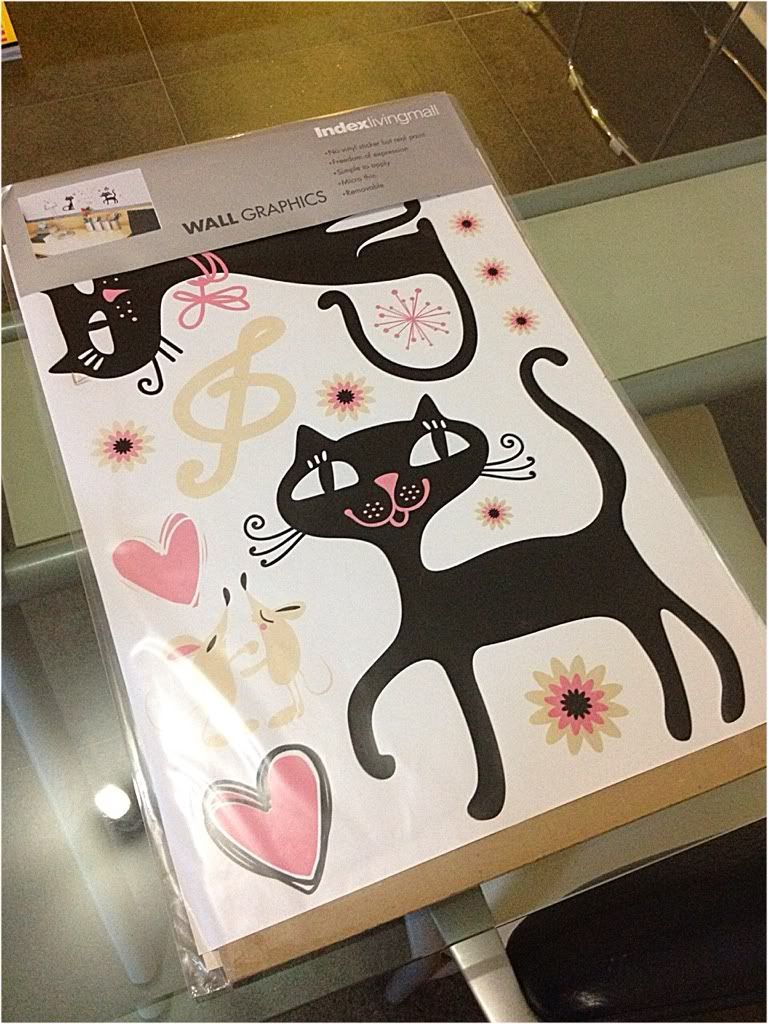 We decided it would be quite cute to put this just above the piano, and so we started by first cutting up the sticker cover and using the paper pictures to determine where they would look best:
BTW, Kooshie was decidedly very participative in this - he decided to 'meditate' and lend me moral support as I did this:
And so after deciding, it's up goes the stickers, water to make it stick (something like those kids tattoo where you stick on by putting water on the back of the paper) and viola!
It's really a simple case of application, but hey, it's a start somewhere right? Our piano now no longer looks lonely.
By the way, this piano was inherited from Marcel's family and it's been the family home for many decades. As Marcel's aunt aka my Godma is moving house, they decided we should have it since it will be the place where many more future family gatherings will be held.
On a separate note, we have begun to make vindaloo in this house. Here's our stash for the next 2 to 3 weeks:
Awesomeness.
I've been such an avid follower of this blog
Current Mood:

accomplished
Renos....
Contractors coming in for one last time this Saturday to touch up some defects and we're so excited to unpack fully after that.
Did you know that there's this thing called 'renovation dust' that lingers in the air, which takes about one week to go away after renovation stops? This was pretty new to us, which is why we decided to leave the stuff in the boxes for the time being and unpack much later. We also turn on the ionising function on our Sharp aircon in our master bedroom every night to see if that helps to clear out any particles which we can't see with the naked eye. Pretty happy with our investment now :)
We still have some more items to buy, before the lovenest is fully functional and able to receive guests. For now, our balcony is serving the 2 of us well - nightly dinners / chillouts are all there.
Our furry ones....
This week, we have also successfully moved 2 of our cats over. Kooshie and Batman are doing well, albeit still a bit wary of their new environment and poking their nosy faces into every nook and cranny they can find. We have also switched over to using pine litter and can I say it's like the best thing ever? There's no dust (unlike clumping litter) and best of all, no smell! Everyday when we come home, it's smelling like Ikea with the pine smell. What a blessing.
Food for the heart <3
We have also started cooking again! We started with pork vindaloo this week (thanks to Marcel's cousin, Dwight for the rawkin' receipe) and rice cakes. Rice cakes are actually Marcel's speciality and it was so heartwarming to come home to piping hot, spicy rice cakes last night after an appointment. <3
TGS @ Gypsy In The City
Everything will prolly really fall into place after Marcel is done with his show next month -
The Glad Stones
will be performing at
The Arts House on Sunday 9 Sept, 6pm. Themed "Gypsy In The City"
, it's gonna be a fun-filled night and lots to delight.
Have you gotten your tics yet? Do it soon cos' last I heard they are almost sold out!
See you there!
We have finally moved to our new lovenest and we are almost there!
Current Mood:

happy
1. Lovenest
Finally! Well, it's really not the easiest to put together a home with loving touches. The major fittings are almost done and we are expecting to move in early August. Soft touches will have to fall in place bit by bit when we move in.... looking forward to slowly doing up every corner, enjoying home cooked meals for the two of us, etc.
The journey hasn't been easy but hey, we're so gonna cherish it when we finally move in!
We are expecting to try out some DIY projects, and I credit the inspiration to blogs like
Young House Love
. For starters, we bought a lovely pair of bedside tables today from
Hock Siong & Co.
and I'm really looking forward to giving them a fresh coat of paint. As well as
ORB-ing
our current dining table with grey metal legs.
What's left to buy? Perhaps a TV console and bedroom wardrobe, and we are almost all set. I can't help buzzing with excitement!
2. 3rd Wedding Anniversary
That's right... our special day is coming up soon, which leads me to the next special date..
3. 10th Year of Togetherness
10 years since our first date, since he asked me to be his girlfriend... 10 years since and it all started in NTU, where we made eyes at each other during audio patching class and I met his acapella group (he was the beat boxer), he added me on ICQ... and the rest is history :)
Will post pics along the way, when our lovenest is fully done. Peace out!
That's right! Sooooo excited about what's to come and it's certainly a milestone for the two of us :)
Current Mood:

excited
album
+
MV
, and now is busy doing promotional work. We're now in the reproduction of the CDs after the first 2 runs have all been sold out - *YIPEE!*
Thank you for all your support dear family & friends! Please continue to spread the word and refer friends to
buy their songs from the website
.
For myself, I've been busy with work and started my third term on the Old Victorians' Association Management Council.
On top of all this, we are proud to say our new home is ON THE WAY. (*somersaults all around the room*) Renovations have begun and we are moving fast to choose materials, buy items, and watch it fall in place bit by bit.
Once more is done up, we can post pictures. Will update again soon!
****************************************
***
Sidetrack - just wanted to document a "moment" that gave me a real good laugh today.
Today, I was in the car trying to sing their song "
Catapult
" in my own rendition.
I then turned over to the husband who was driving and asked, "Oh no. You're gonna kill me for butchering the song, aren't you?"
The husband turned towards me and with a sad look on his face, replied, "And the lyrics too."
I.ALMOST.DIED.LAUGHING.
The 2 of us have been really busy - in the last 2 months, Marcel has recorded and launched his
Current Mood:

accomplished
A girl mouse, a broken hearted mouse and a brown bear in Sunny SIngapore.....
Filmed and produced in Singapore, with talents from our very own little red dot.
Presenting The Glad Stones'
first official MTV - if you like it please share it!!!!
Current Mood:

artistic
I then started to google and realised, he had passed away last year on 24 August - the same day we celebrated our 9th anniversary.
I've always felt he was one of they key people in the early days of our relationship. I was working very closely with him back then (9 years ago to be exact) and he was training me to become one of the anchors for our TV program in NTU. He taught me a lot about television, interviews and in fact guided me a lot along the way for each episode of profiling series - where I did in-depth interviews with professors from around the world, who are today in NTU. He was so patient with a freshie like me.
He was like a father, asking me about my future, which division am I going to major in (he's always wanted me to do broadcast) and encouraging me to go on exchange and to go to Ithaca, where he was the founding dean. In fact, he would have helped me to make the professional connections to be an anchor if I had pursued broadcast as a major (which I did not in the end).
At the same time, that was the time I started dating Marcel. He always asked me how are things and I'll always remember that look on his face, whenever he asked me in a protective tone, "So is he treating you well?".
We kept in touch via emails all these years. We invited him to our wedding but he was unable to make it as he was going to be visiting family in Greece with his wife. I just thought about him yesterday and was telling myself I should email him again soon.
I really appreciate the wonderful human being he was and how he was always trying to raise people up.
Life passes us by quickly, we do not know whose lives we can touch along the way. If we do, it is our blessing that we are able to do so. He inspired me to be that person, and to always do good to people I meet.
Take care Dr Kesh, see you in Heaven.



Picture sent to us in year 2009. He is seen here on his yacht with his dog, Max.
I woke up today with a shock - Marcel was facebooking in bed and he turned to me and said, "Baby, I think John Kesh passed away."
Current Mood:

sad
Well, with the flat underway, I think there will be lots more to come! That's right, our LOVE NEST is finally here!
It kinda caught us by surprise when the keys came so about 2 weeks on now, we are kind of scrambling to find out what to do:
Designer + contractor or Interior Designer companies or pure contractors?
What goes first? Apart from the obvious floor tiles and window grilles, do we install stuff first then paint or paint first...?
Are we supposed to shop for stuff now? They say what we buy impacts what design we want. Or do we design first then hunt for items?
What kind of kitchen cabinets? What kind of counter top?
How to best utilise the bomb shelter?
Where shall we place the kitty litter trays?
How can we make our balcony special?
etc etc.
I'm sure the answers are out there in forums, and so we begin the internet trawling for answers, ideas etc.
It's fun. More fun than the wedding I must say. I think now that we are older and more mature, plus this house is really for us in the long run it's really much more fun than the wedding.
I can't wait for my new kitchen - where I can cook curries and roasts every week!
Please keep us in your prayers to find the right contractors, materials for our new home and that everything goes smoothly!
Some pics I took on the day we first entered the house:
Wide shot of the kitchen and living room:
Didn't take a pic of the study room, which will be Marcel's studio.
Looking forward to what's to come!
I know. We kinda suck at updating what's with us.
Current Mood:

accomplished
The Glad Stones, comprising of Marcel and his friend Jaye, launched their first ever single "Catapult" yesterday at the Library @ Esplanade. (pics
here
)
Catapult is now also available online for download... FOR
FREE
!!!
Woohoo, go support ok.
They have come such a long way. I still remember the day they briefly crossed paths at a Maestro showcase at *scape. They then hooked up and just clicked - the clash of their different music styles became a intoxicating concoction that led to songs like
Catapult
,
Fedora Swing
,
Ain't On The Radio
, etc.
So proud of them :D *sniff!*
Producing the first track has been tough actually. After working in the day, they will slave away deep in the heart of Greenwood - meeting at 8pm or 9pm or 10pm and recording till 12midnight or 2am (depending on if the next day is a working day). Everyday or every other day they repeat this. There are also pure rehearsal nights and jamming till late to get it right.
The night before the launch, both other halves (myself and Honoka, Jaye's gf) were there mass producing the door gifts for the show. Plus give feedback on their rehearsal, etc. Yeah,
loving a music man
also means being their roadie -
Journey
kinda conveniently left that out.
So yes, for all the hard work that went into making their dreams a reality - please click on the picture below and download their first single. Hope you enjoy it, let us know!
Yesterday, 25 Nov 2011, marks a momentous day.
Current Mood:

accomplished