Hiyoh, so cute lah but please don't grow up too fast!
On this day, 17 Jan 2015, 12:05pm - we saw our baby girl roll over fully unassisted.
We're very excited to introduce our baby girl to the world - meet baby Natalie, born in the wee hours of the morning on Sunday, 7 Sep 2014:
We checked in on Saturday afternoon to induce her, at 38 weeks + 3 days. Honestly, the first 3 hours with no epidural were ok, and the next 6 with epidural was a breeze. The whole time I was just being a slob on the hospital bed playing games on my phone and watching TV.


But after 9 hours of labour and no signs of dilation beyond 2cm, our doc made the call to do an emergency csec for the good of baby and me.


Being wheeled to the operating theatre was the scary part, and we opted for me to be awake during the csec - we felt it was safer than going under GA. Marcel actually witnessed the whole op... and I can literally say he knows me better than I do now, having actually seen my insides through the cavity in the body.


He was asked to sit beside me, while the screen shielded me from what was going on. However, I knew something horrifying was going on because I could see the horror in his eyes, as they kept darting to what the surgeons were doing. He tried his best to keep his eyes on me, but I knew it looked really scary to him.


I'll never forget the moment when they lifted her out.


The surgeons said, "She's coming!" and next thing I knew, I heard her first cries. When I heard her first cries, somehow it JUST CLICKED. It just somehow made sense that those cries belonged to her and it was as if I already knew her. When I heard her cries, I felt a sense of relief and waves of emotions just came over me. I couldn't stop crying and I kept asking him if she was ok.


It felt like an eternity waiting for them to bring her to me, although it must have been at most 2 to 3 mins. When they cleaned her up and placed her on me, it felt so good, so surreal and I could hardly believe my eyes. Here's the first shot of our brand new family of three: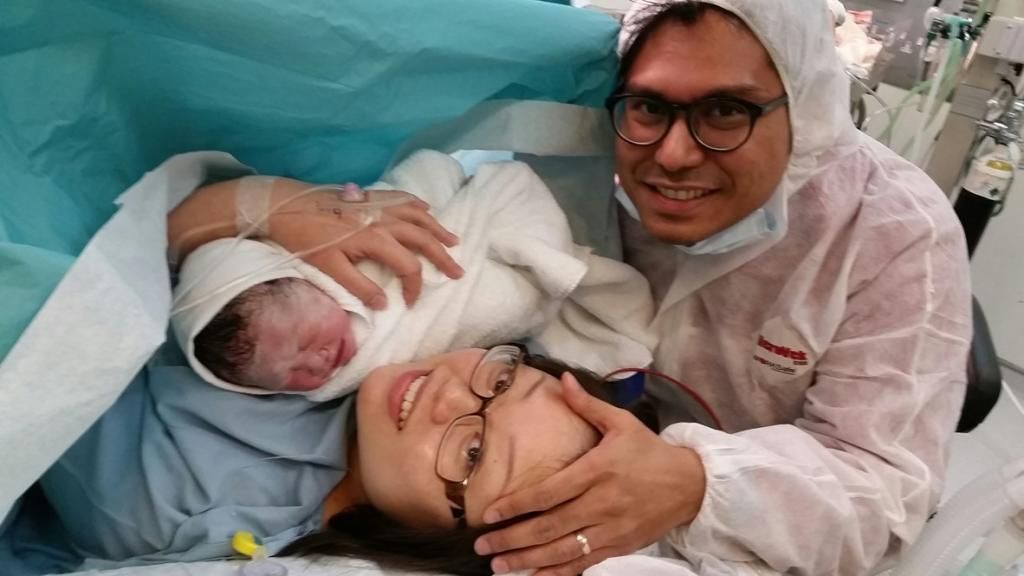 The next thing I knew, this little one actually opened one eye to peek at me - I know that 'one eye' look, because I do it myself too when I'm being woken up. I was so tickled when she did that and that's when I said to myself, "That's my daughter."


Next, she spat out a saliva bubble. That's all Marcel. *snigger*


After a few minutes of family time, they had to whisk her away to NICU to monitor her (SOP for csec babies) and Marcel was called away to do the Dad thing of watching them tag her legs etc. The surgeons then proceeded to sew me up, which felt like forever, as the room was a chilling 17 degrees and I shook uncontrollably from the effects of epidural.


After some recovery time, I was finally wheeled into my room and saw the worried faces of Marcel and my parents. Thankfully the surgery went well and I am recovering very well now, although the first few days were quite torturous and I was bed bound for so many hours. And removing that bloody tube from my wound that I screamed bloody murder? Nah, I'll save that story for another time... maybe Halloween.


For now, let's focus on Natalie.


She is such a darling and now at 2 weeks and 2 days old, has a personality that totally tickles us. She's a quiet baby with curious eyes and always looking around the room. She "studies" my face when I feed her, talk or sing to her and she perks up when being sung to. She only cries when she has soiled her diapers or wants milk, and spends most of her other time making funny faces in her sleep.


The face she gives when I breastfeed her - soooooo cute. She would widen her eyes and purse her lips into a big 'O' like it's the best thing ever (thanks baby, really helps in my confidence!) and then proceeds to 'chase' for the milk.


We are indeed blessed and we are enjoying every moment of it. Yes, night feeds and constant pumping are trying but I would gladly do it, and spend those precious 10 to 15 mins after a feed where she's most awake to play with her and take lots of pictures. I can literally say I've waited all my life to be this happy and we are most thankful to the big man up there for blessing us with this little one who's just so much more than we had expected.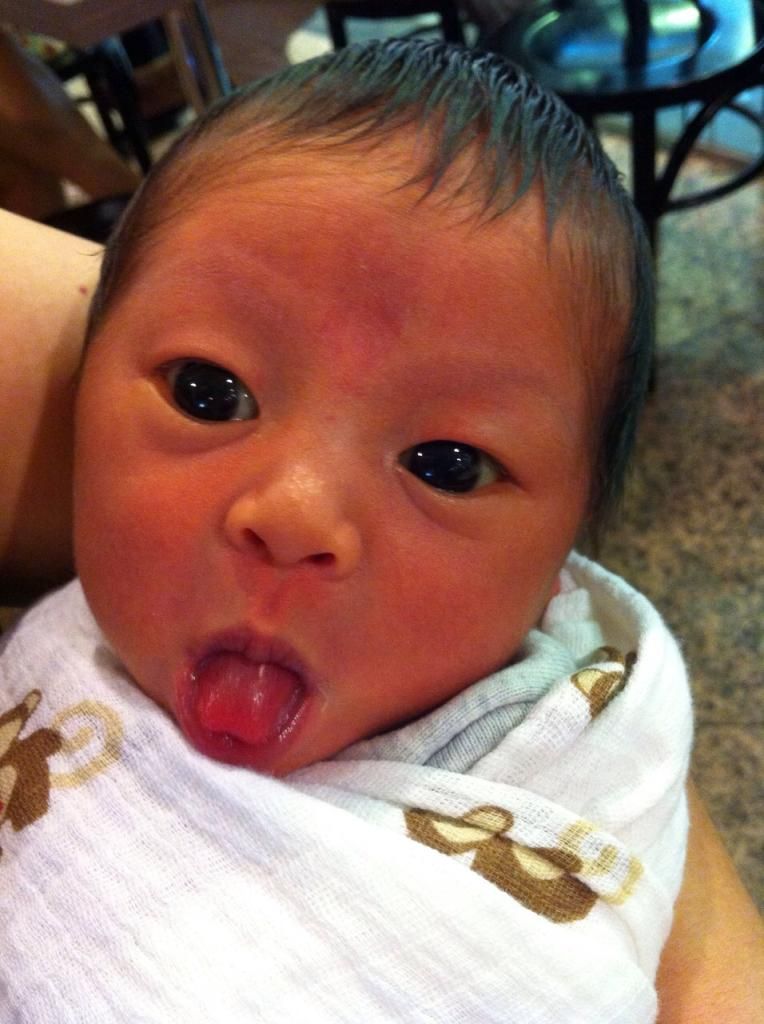 Thank you Lord.
Current Mood:

happy
When I first heard this, my first reaction was instant grossness. Now that it has had time to settle, it's actually pretty sweet and I can see why, when I think about my Daddy.
My Daddy sometimes literally speaks with 'no head, no tail' - he sometimes doesn't give the context, or drops off his sentences halfway either because he just doesn't say it or he got distracted. Sometimes he just doesn't express it well. The worst is when he attempts to write an SMS - spelling errors, incomprehensible sentence construction, grammar, choice of vocab, etc - which usually leads to disastrous results that leaves both me and my Mom flabbergasted, and would rather pick up the phone to call him then attempt to text back to find out what that was all about.
But I get him. I know what he's saying, even when his sentences are half complete... and where he's going sometimes without even telling me much. It's a father-daughter connection, I swear.
I also pretty much suspect this little bub, who at 38 weeks inside my belly sometimes kicks up a storm while playing, has already developed a very strong connection with Marcel.... more so than with me!
Marcel wrote in his blog
entry
about how she responds to him, and it's clear she has started to take sides. I usually stroke my belly to soothe it, when she keeps moving around and generally to
sayang
her. However, if you want an instant response from her, bring on Daddy's hand and she will respond with acrobatics like you've never seen - all the turns, jabs and wonderful twists she does like a dance performance in her full glory. Once Daddy's hand leaves, she goes quiet as if the spot follow light has died out.
Sometimes I quickly place my hand there after Marcel takes his hand off....
nada. ZLICH.
I don't think it's because men have hotter hands either. Sometimes when he kisses me goodbye in the morning while I'm still in bed, and lays his icy hand on my belly, she surfaces as well. Albeit with much less grandeur (because it's 5am and judging from the hours she keeps, I think partying late into the night is right up her alley).
So if you ask me, I think Marcel's in some serious trouble when this little one learns to preen and find her little ways to get what she wants. Daddy's pretty much wrapped around her little pinky when she gets down to learning the fine art of coquetry.
*wink*
There's a saying in Chinese: 女儿是爸爸的前世情人. A literal translation is "A daughter is a father's ex-lover from his previous life".
Current Mood:

amused
Yes, it's a SHE - our little one is going to be a little princess, a Miss Pereira!
She has been really pampered from the day people around us knew about her existence. She's been gifted a cot from her grandparents, a beautiful stroller from her grand aunt A, and many other gifts from our friends, family members and clients along the way. We also had a baby shower recently, which was gifted from her grand aunt J! She's been showered with so many beautiful toys, clothes, dresses, nice fluffy things to keep her warm and and looking like the sweetest baby on the block.
We've been kept busy with doctor's appointments (again another blessing, our gynae is a friend's mom who treats us as friends rather than just another patient), decorating her yellow room, taking childbirth education classes and doing all the prep work and reading up before she arrives. We've also been kept busy with
Marcel's solo gigs
and his duo
The Glad Stones
, work, a quickie babymoon in Batam... and in between we took turns to fall sick and that even sapped both of us out for 3 weeks!
Despite the flurry of activity, she's been going strong and just been enjoying herself inside my belly - putting on weight steadily, doing her somersaults, twists and turns and basically having fun in lalaland. She's also getting a daily dose of attention from her daddy - everyday, Marcel would talk to her, feel her movements in my belly and even sing to her. She's been very appreciative too, she tends to move her head closer to where daddy's mouth is placed when he sings to her and would quietly listen to him.
These days, she's really showing me how strong her bones are and her stretches sometimes makes me want to even yelp at times. Sometimes when her head is facing down, she seems to do this stretch that presses against my bladder, while kicking me at my rib cage... so I don't know if I should first lean back to ease the pressure on my ribs or should I curl forward to prevent her from literally trying to squeeze out the pee from my bladder! This girl's got some teeth.. my mom thinks this is all coming from Marcel's genes cos I was a really nice baby, and his Mom's version of how Marcel was in her tummy seems to corroborate this!
We have been really, really blessed as a couple and I cannot ask for more. As the doctor's appointments now become more intense (every 2 weeks) and my belly getting heavier by the day, I'm really enjoying my final stretch preparing for her, while enjoying my last 8 weeks at work and bringing her with me to meet my clients ;) Sometimes I wonder, with all the financial stuff she hears while she's in my belly, I wonder if this is a head start in making her financially savvy, or maybe she might one day be interested in a business in financial services too?
Haha, that's a topic at least 21 years down the road. For now, I'll just continue to enjoy this 8 weeks of bliss and freedom.
So the baby is now 32 weeks in my fast ballooning belly, with 8 weeks or less to go before she greets this world.
Current Mood:

calm


It started when I was browsing the September Mothers-To-Be facebook group and someone was saying she was 18 weeks and not feeling her baby move. I posted a comment saying that I didn't either... but lo and behold, the moment I hit "enter", I felt a THUD in my womb!

At first I wondered if I was feeling the right thing. The next few days it felt a little like bubbles, then it progressed to become twitches and now, it like a strong spasm whenever the baby moves.

It's true, you actually know when your baby is awake and when it's asleep! The baby is usually most active just before mealtimes, at mealtimes and after meals. At night, it usually moves around 8pm - 9pm and again 11pm - 12midnight. (I sure hope that's not a sign of its waking hours in time to come... cos I'm really hoping it can sleep 7pm to 7am at some point!) I'm moving around too much in the day to feel it properly in the day.

And on Mother's Day, Marcel finally felt it for the first time. We were having our family dinner at Tung Lok and while we were waiting for dessert, he placed his hand over my belly trying to feel it... and he did! He felt a little beat and then he asked me, "So that is it?". LOL, best Mother's Day present from the baby :) I hope it gives him a great big kick to feel by the time Father's Day rolls around.

Tomorrow is our detailed scan, so wish us luck that we can find out for sure if it's a boy or girl! it's been either showing us its back, or crossing its legs in our last few scans, so hopefully we can get it all correct tomorrow.
Also known as the first movements when a pregnant mother starts to feel her baby move inside her. I'm happy to say, I finally started feeling it about 2 weeks back :)
So what's up with us? Let's just say Marcel's got his music schedule pretty much jammed packed this year and that means, another busy year BGL-ing = Bao Ga Liao = hokkien speak for "have to do everything"
By BGL I mean things like helping out in marketing/money matters, being the driver, water auntie, make up artist, photographer, stage hands etc. So yah, while I can say things like, "Oh, what's up this Friday? My hubby's having a GIG." - it comes at a (trade-off) price.
It's not all bad, afterall, when you love someone you would like to do all you can to support him or her right?
I'm so proud of Marcel - he's got his solo shows coming up with
Musicity on 26th April & 9th May
, and The Glad Stones' album launch coming up sometime middle of this year. I'm sure his TGS promo activities will prolly run right up to the time I deliver - so this quick thinking wifey has already made him promise NO MUSIC ACTIVITIES DURING CONFINEMENT MONTH. NADAH. ZILCH.
*cue evil laughter*
Anyway, back to
Musicity
- it's a pretty cool project where you literally download an app, and when you walk near a designated spot you can actually stream a song or poem as you soak in the environment around you. This year they have chosen Tiong Bahru, and Marcel will be performing the song he wrote for this project, "The Place Where We Met", as well as his other originals this Saturday as well as on 9th May.
Honestly it took me a while to understand, and for the fun of it I decided to localise it into something my preggy brain can understand:
So for example (L - R), if I had the app specially designed for the Pereira home:
1. Balcony where the cats sleep - song choice:
Secret Garden
. Why? Because they had me at
Hello
(ok,
Meow
to be precise)
2. Internet transmitter - song choice:
Freedom
. Why? Gateway to internet!
3. Booze table - song choice:
Party Rock Anthem
. Why? What good is a party with no booze? You have to lay the booze on THICK, now it's a party :)
4. Bathroom in kitchen - song choice:
Let It Go
. Why? Nature calls.
5. Shoe area - song choice:
Va, Pensiero
. Why? The famous chorus of the hebrew slaves... it's like my many pairs of high heels which have now been banished for many months to come.
I'm really looking forward to this Saturday because apart from presenting the song he wrote and recorded for this project, he'll be presenting some of his new originals. One of them was specially written for the baby! Yaay! I'm excited to hear it in public and watch the audience's reaction to it. So if you're free, please join us on either this Saturday 26th April or 9th May,
tics are now available online
and shows will be held at some of the coolest places in Tiong Bahru itself.
Marcel is also doing
giveaways for a pair of tickets
to his shows, so if you're keen you can check out the mechanics on his blog.
See you there!
Current Mood:

happy


We actually found out really early this year, 7 January @ 3 weeks 5 days to be precise, and we kept it under wraps until about 4 weeks ago. I'm about 18 weeks now and everything has been really good to date.

The baby is truly a warrior and has always shown great results whenever tested - progesterone readings (at one point we wondered if it might be twins), excellent growth at every scan appointment (always on track with what length/weight it should be) and super duper active, that its movement outpaces the gynae's scanning everytime. Good job baby. *brims with pride*

While I cannot feel its movements yet, I'm sure I will soon.

Today was another significant day for us, because we have started touring the hospitals to pick one for our delivery. We toured Mount E Novena today and it was really luxurious. The junior suite was woahhhh... (is it too much to say panty dropping?)

The tour ended with a visit to Stemcord to understand more about cord blood banking and their prices etc. Sounds like a good plan, I wonder if most parents opt for it?

The clinic also called me this morning to report excellent results for the triple blood test - YEEHAW!!

We are due for our detailed scan soon so hopefully that's when we get a confirmation on our baby's gender. Either way baby, Momma's already very proud of you... please kick me soon! :D
Yes, we are finally adding a little Pereira to our ship and expecting its debut sometime this September!
Current Mood:

excited
So many cherished moments over the past 4 years - travels, road trip, music making and our love nest to call our own.
Most importantly, our love has deepened and truly blossomed. Praise God.
It's so much fun in this Pereira household, I wouldn't trade this with anything in the world.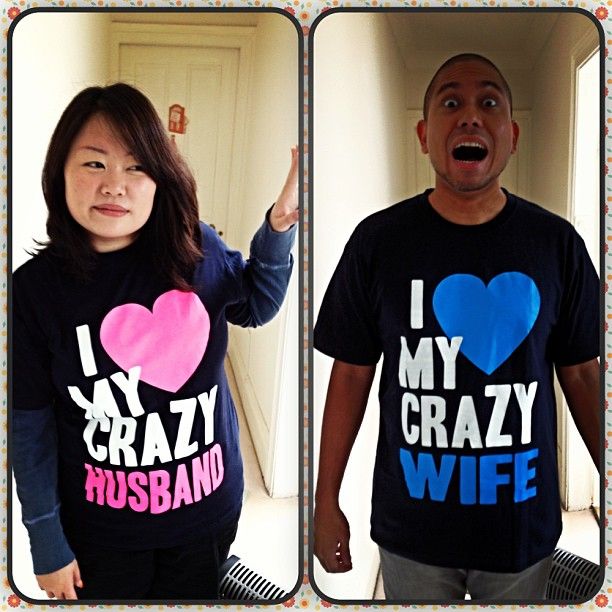 Happy Anniversary to us!
Today we celebrate 4 years of us as Mr & Mrs - 4 years of a wonderful journey, with definitely more ups than downs! Many times over!
Looking forward to hosting parties right in our own love nest, complete with our first Christmas Tree & goodies!
Posted via LiveJournal app for iPhone.
@ Wedding of Alvin & Wansi
Posted via LiveJournal app for iPhone.